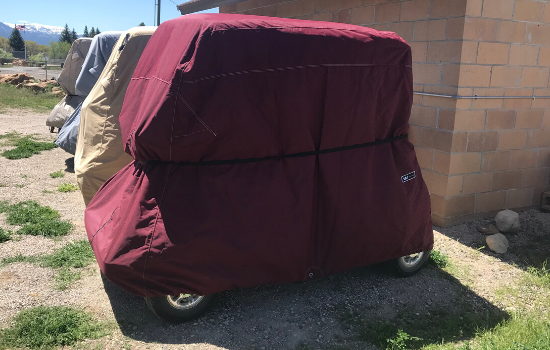 There are 34,011 golf courses in the world, with 79% of them located in the United States, Japan, Canada, England, Australia, Germany, France, Scotland, South Africa, and Sweden,  according to ESPN.  Golf is one of the most loved games in the world. For those golfers who have taken their game to the next level and purchased a golf cart, it is essential that a golf cart cover is purchased to protect it when it is not in use.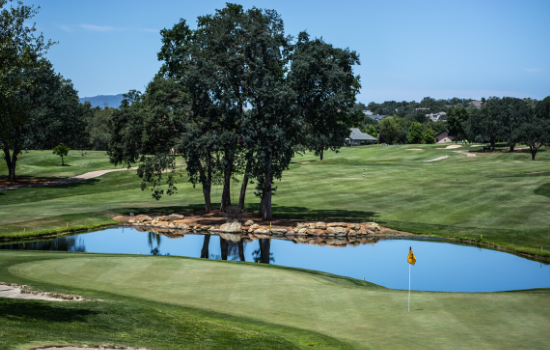 Whether you are storing your golf cart inside or outdoors, it is important to have a cover to protect it. When stored in a garage or other storage areas, golf carts are subject to dirt, moisture build-up, and accidental scratches from those passing by. When golf carts are stored outside without a cover, they are subjected to harsh weather, dirt and sap from trees, droppings from animals and more unwanted environmental conditions.
With so many golf cart covers to choose from, you may be asking yourself, 'what is the best golf cart cover out there?' Let's explore the three most important features when choosing a golf cart cover.
THE IMPORTANCE OF GREAT FABRIC 
The fabric your golf cart cover is made from is important for several reasons. First, a waterproof fabric will keep rain and moisture from seeping in and damaging the paint and interior components of your golf cart. Second, a cover made from the finest fabrics will last longer. This means a cover that is a worthy investment.
At National Golf Cart Covers, we carry covers made with only the best quality fabrics. Our ExactFit covers are made with genuine Sunbrella or Sunflair fabric, one of the best outdoor performance fabrics on the market today. These fabrics are solution-dyed so they retain vibrant color and resist staining. Goldline and Greenline golf cart covers are made using high-end Tru-Weave fabric that is a marine grade woven polyester. All of our covers have a special Durapel coating technology to repel water and UV rays.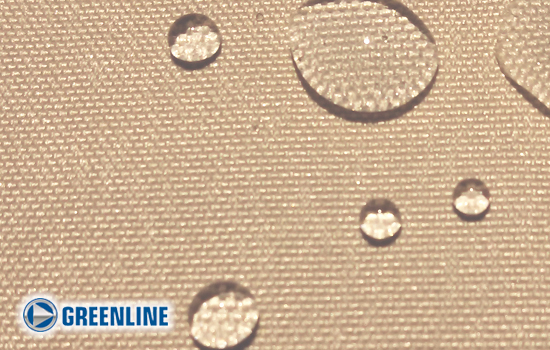 CUSTOM-LIKE FIT
Just as important as the fabric of your golf cart cover is the fit. Fit is a very important aspect of buying a golf cart cover because the more snug to the cart the cover, the less likely dirt and moisture can get in to damage it. Also, with the incorrect sized cover, it only takes one storm or big gust of wind to blow it right off the golf cart.
Find a golf cart cover that is made to your golf cart specifications. At National Golf Cart Covers, we make covers that are specifically made to fit Yamaha, Club Car, and E-Z-GO golf carts. In addition, all of our gold cart covers feature a sewn-in shock cord him that provides a snug, semi-custom fit.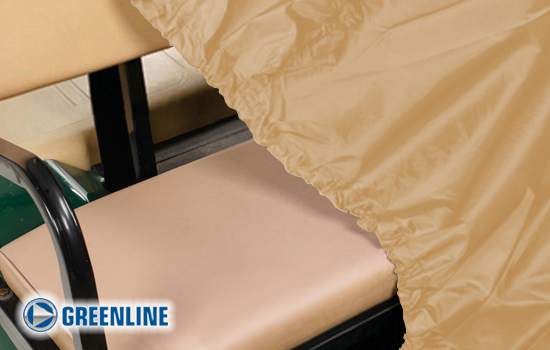 EASY INSTALLATION
 If you find yourself wrestling to put a cover on your golf cart, chances are you won't be inspired to put your golf cart cover on often. That is why finding a golf cart cover that is easy to install is very important. Afterall, a cover for your golf cart won't do you much good if you don't put it on.
National Golf Cart Covers knows how important it is to have a cover that is easily installed, which is why our covers have a slip on design that easily fits over your specific golf cart. Our golf cart covers install in minutes without the use of tools.
Now that you have your beautiful golf cart to give you a lift from hole to hole, you will want to treat it right. There is value to using a cover to properly winterize your golf cart, as well as using a cover year-round when you aren't riding it on the course. A high-quality golf cart cover can add years of life to your golf cart, and ensure it is ready to roll at a moment's notice.