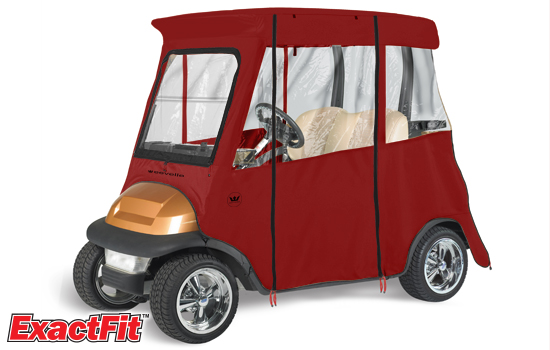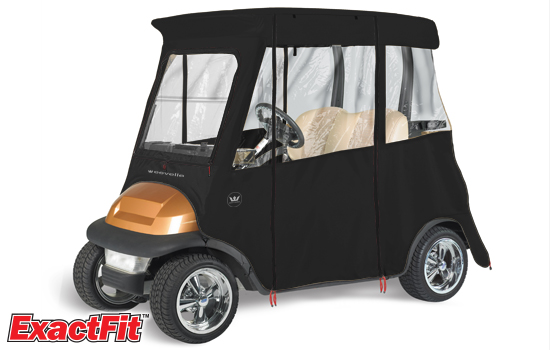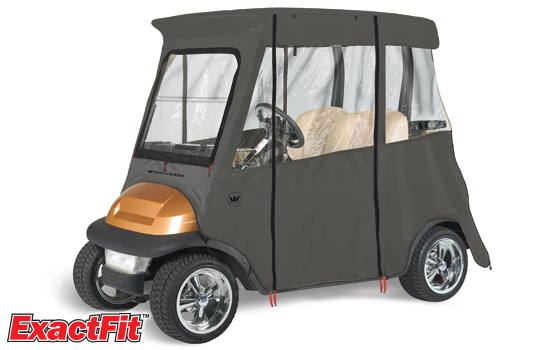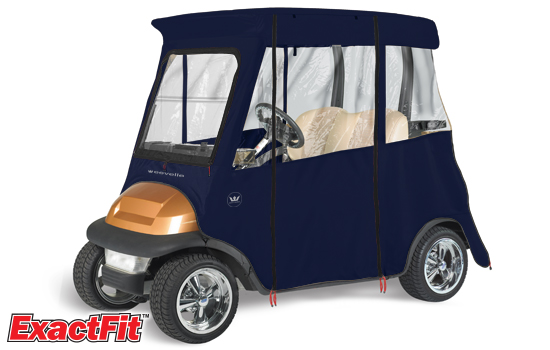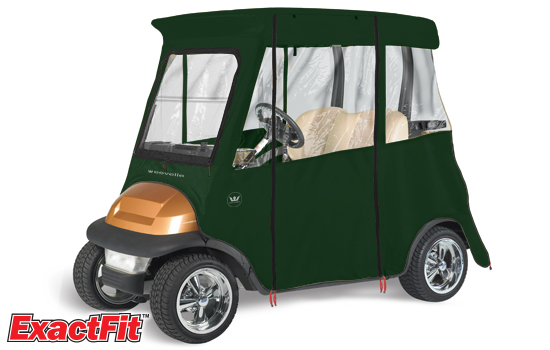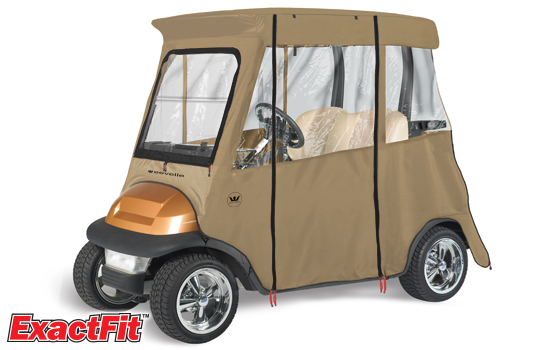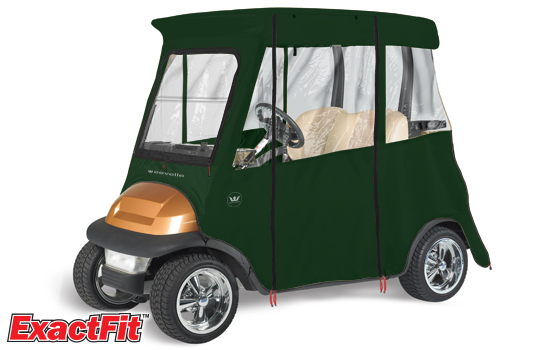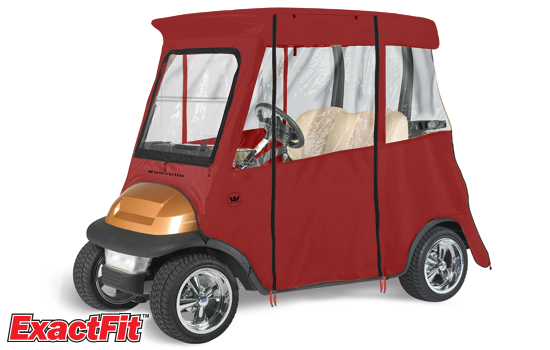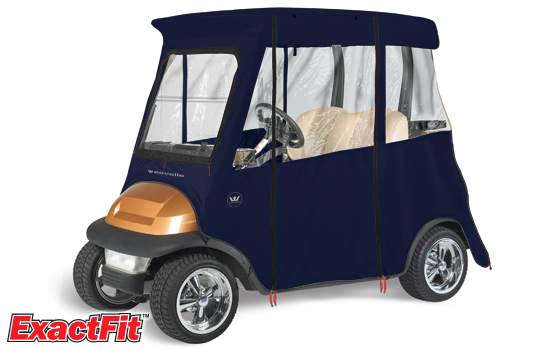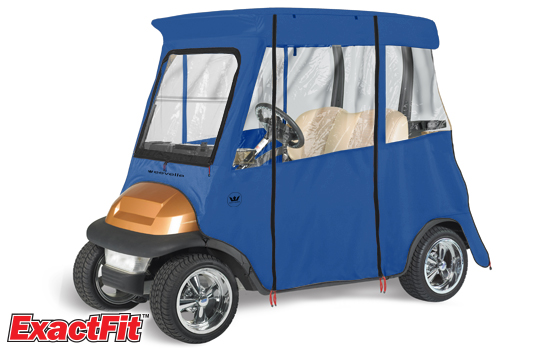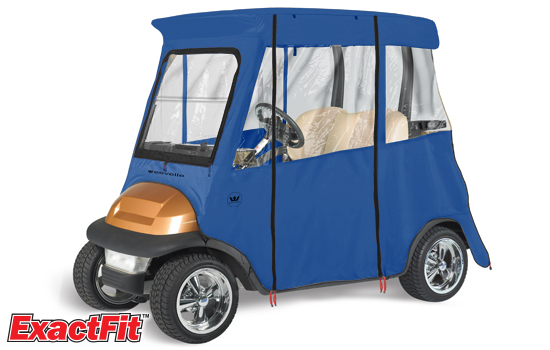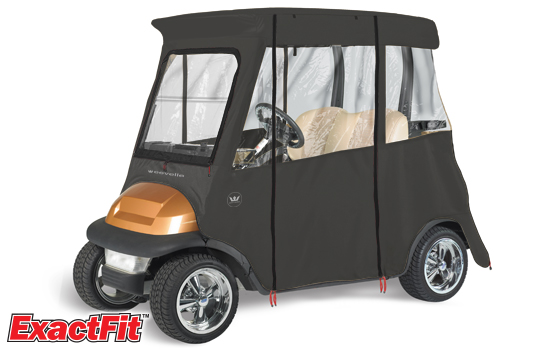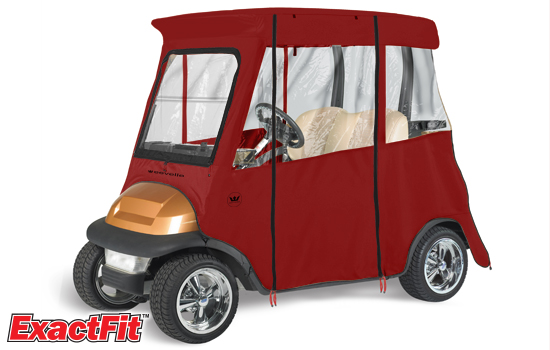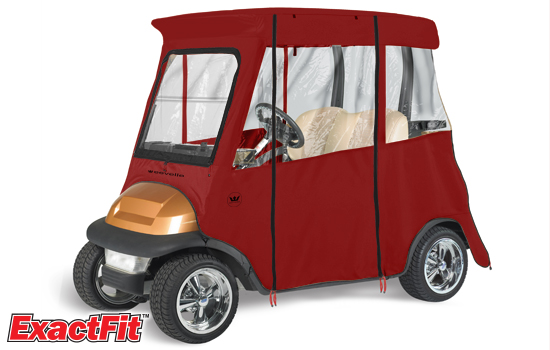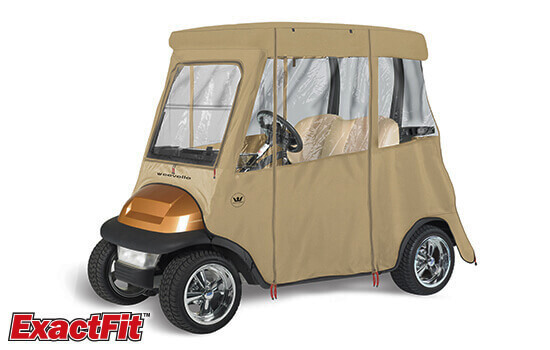 Golf Enclosure without a Striped Roof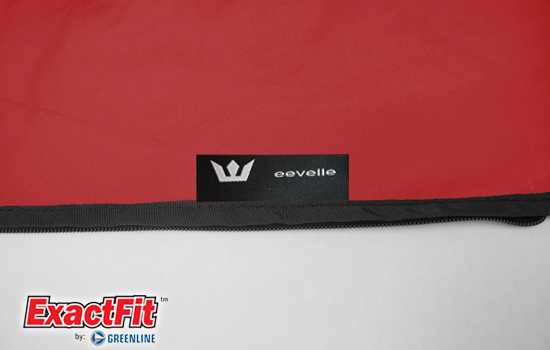 ExactFit Sunbrella Enclosures - Manufactured by Eevelle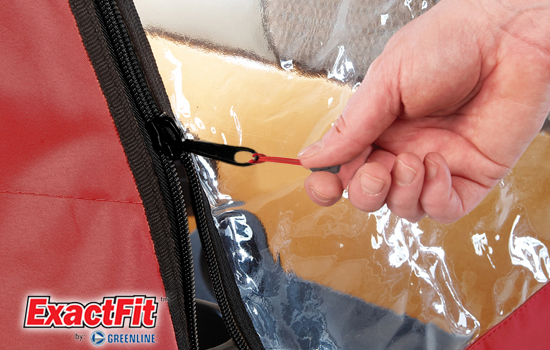 Heavy duty zipper pulls for easily entering and exiting your cart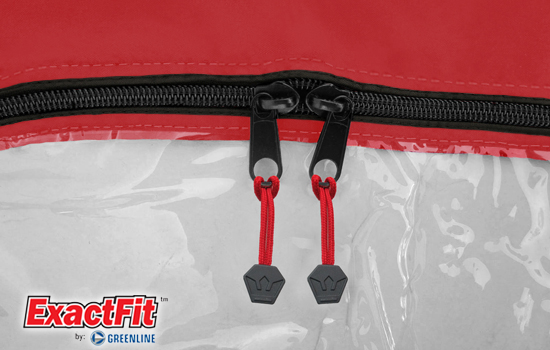 Removable front windshield easily zips in and out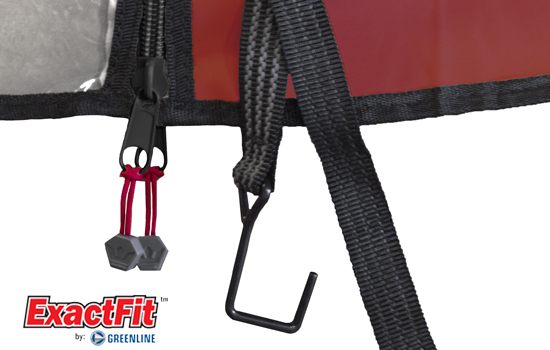 Lock down "J" hooks keeps your enclosure in place and prevents wind lofting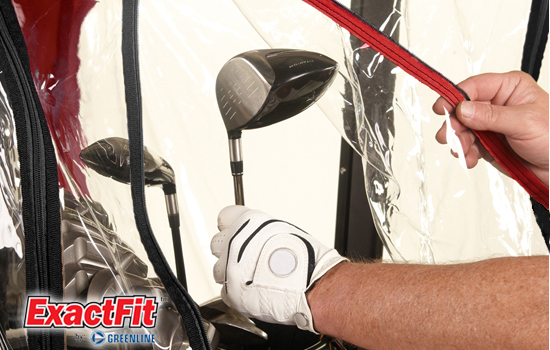 Never hold up the line on the next hole with easy rear zipper access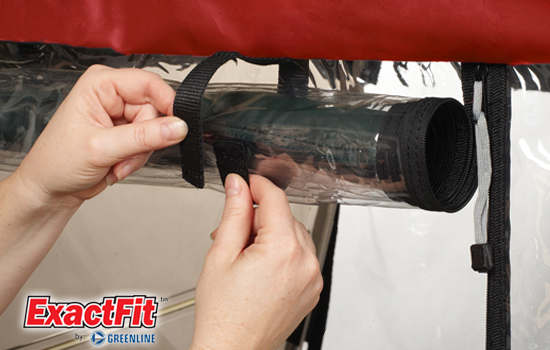 Option to keep side doors down or securely rolled up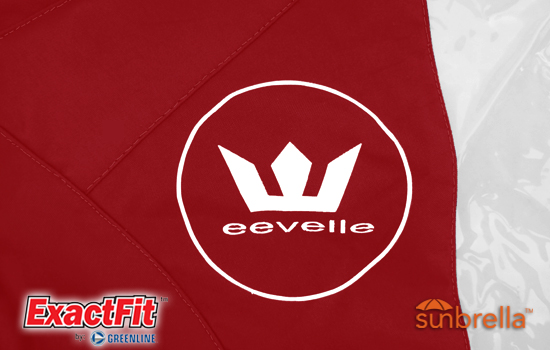 Look for the Eevelle logo of excellence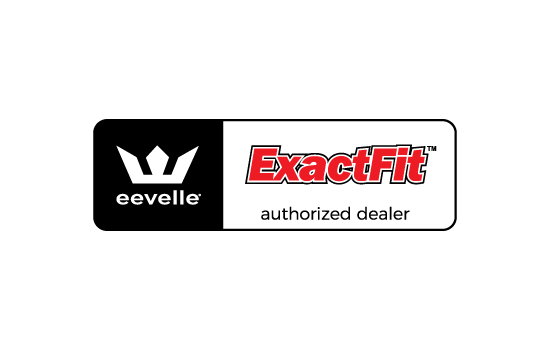 Authorized Dealer of Exactfit Golf Cart Enclosures.
Product Photos
Accommodates:

Yamaha
EZGO

Club Car

FEATURES
Accommodates:

Yamaha
EZGO

Club Car

FEATURES
---

EXACTFIT GOLF CART ENCLOSURES FEATURING GENUINE SUNBRELLA FABRIC 
The ExactFit™ Driveable Golf Cart Enclosure is specifically made for the cart brand you choose, whether it's Yamaha, Club Car, or E-Z-GO. This is a 4-sided enclosure that features a zip off windshield so it can be used with your cart's existing acrylic windshield. ExactFit enclosures fit snugly over the top of the cart and cover all sides for ultimate protection from sun and rain. There are zipper panels on all 4 sides of the enclosure that allow you to roll up the sides and secure them under the valence on nice days. Rear panel zippers provide golfers full access to golf clubs and the lower bin.
ExactFit Drivable Golf Cart Enclosures are perfect for avid golfers, allowing continued play even when bad weather threatens to strike. Super clear double polished PVC windows provide maximum visibility and high quality materials give full protection from rain, wind and other weather conditions. The ExactFit series from Greenline is the top of line in golf cart enclosures, featuring genuine Sunbrella and Sunflair materials. These enclosures are sure to impress with their vibrant colors and outstanding performance and longevity.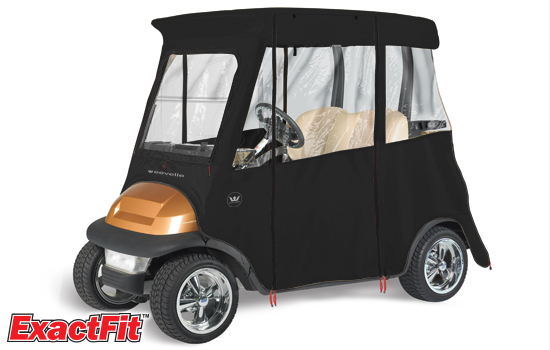 ABOUT SUNBRELLA
Sunbrella® is a premier name in durable long life outdoor fabrics. The name and product has an unsurpassed reputation worldwide. Sunbrella products are sought after and popular because they look terrific and last outdoors for many years. Sunbrella® is solution dyed which means the color is placed into the fibers as it is extruded. Sun, wind and rain will never diminish the color intensity. Furthermore, Sunbrella® is made from acrylic, so unlike many other fibers it resists moisture/mildew and won't harden or crack over time. Sunbrella® is a soft protective cover that promotes breathability, which can be fabricated into a product that you can be proud to own for years to come. 

ABOUT SUNFLAIR
Sunflair is very similar to Sunbrella. It is also a marine grade 9.25 oz. material made of 100% Solution-dyed Acrylic. You can expect comparable performance characteristics from Sunflair or Sunbrella.

ExactFit Sunbrella / Sunflair Cart Enclosures Feature:
Solution-dyed Sunbrella or Sunflair fabric for long-lasting, vibrant color
UV, water and mildew resistant fabric
Super clear double polished vinyl windows
Quick installation - No tools required
4 Sided enclosure easily fits over roof
EZ Access club and bag retrieval
Roll up doors on each side
XT Super duty double zippers with glove pulls
Lock down "J" hooks
Sunbrella / Sunflair Golf Cart Enclosures Include:
Product Details:
2 passenger Club Car Precedent Fits up to 58"L x 44"W
2 Passenger Yamaha Drive Fits up to 71"L x 45"W
2 Passenger E-Z-GO Fits up to 61"L x 40"W 
Weight of Enclosure: 15 lbs.
OUT OF STOCK
We're Sorry. The item you have selected is currently Out of Stock. Please make an alternate selection. If you need assistance please call 800-616-0599.
The item you have selected is currently Made To Order. Order will be changed into Made To Order.
CUSTOM PRODUCT
PLEASE NOTE: The item you selected is considered a custom product. As such, it is not eligible for a refund once the order has been placed.
If you understand and agree to this condition, and would like to continue with your purchase, click the "Agree" button below.
For assistance, please call 800.616.0599