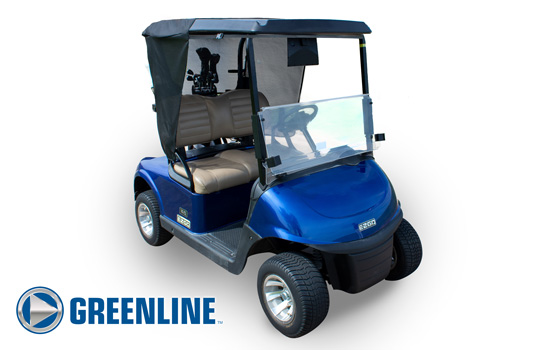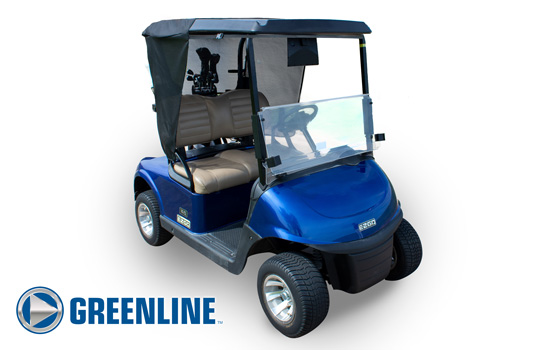 Specifically designed patterns for Yamaha, ClubCar, EZGO RXV, and EZGO TXT.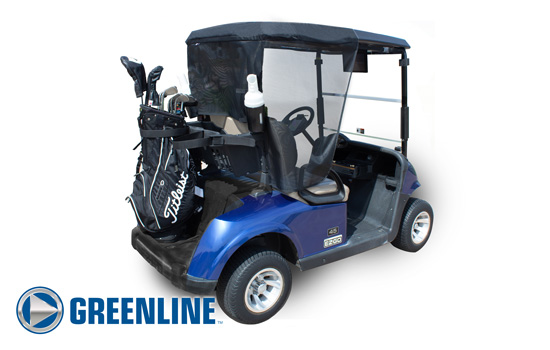 Wrap around shade provides coverage on 3 sides while allowing full access to clubs and basket.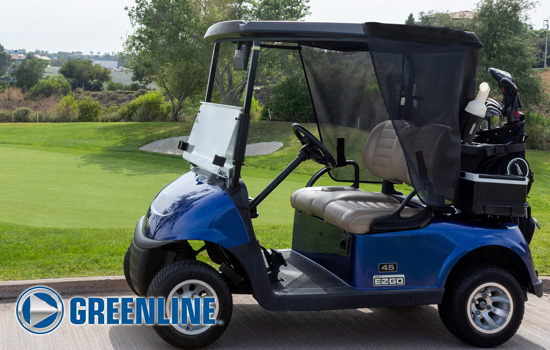 Play it cool with a 3 sided golf cart shade.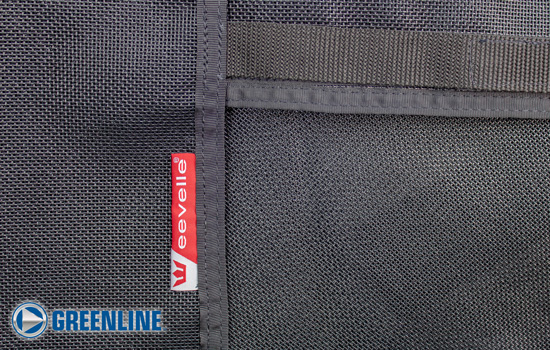 Shade material is Phifer SunTex80, which blocks 80% of heat transfer. Phifer products are proudly made in USA.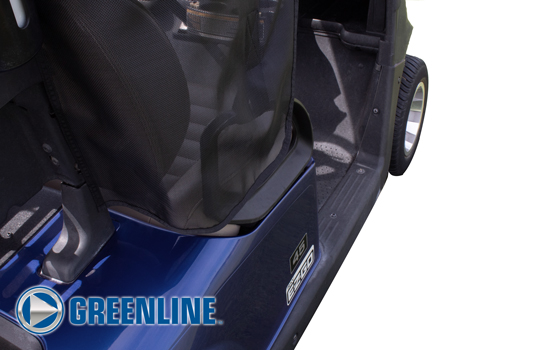 Greenline shade blocks 80% of heat and 75% of UV rays, for a more comfortable playing experience.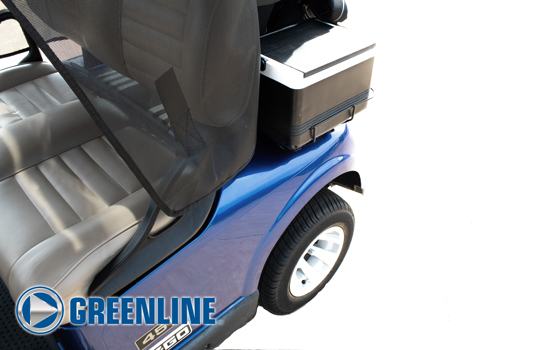 Side panels come down past handles to shade and protect your arms.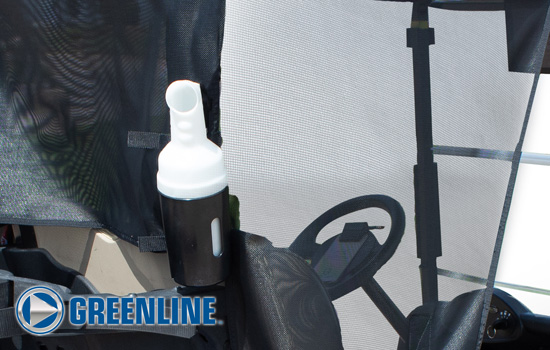 Rear slot and velcro straps accommodate sand jugs.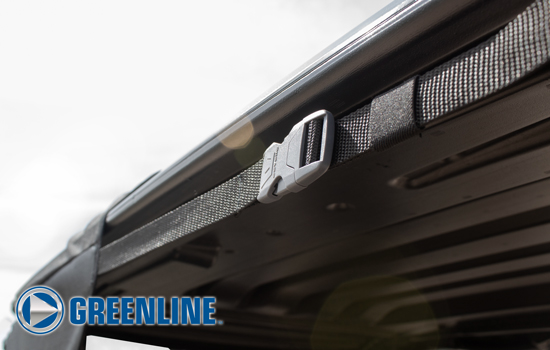 Attaches quickly to cart. Place on rear of roof, run strap around front roof supports and buckle the front strap.
Use 2" velcro straps to attach side panels to handles.
Greenline SunShade is another quality product from Eevelle.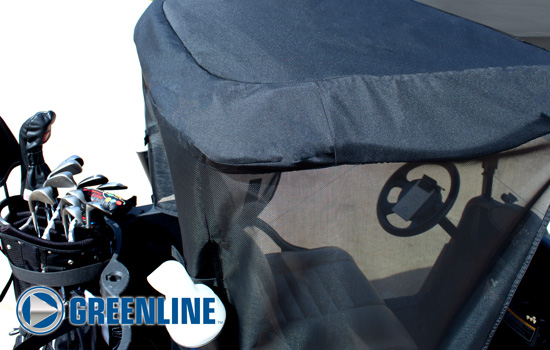 Shade top is made from 600D Solution Dyed marine fabric, ensuring long life and fade resistance.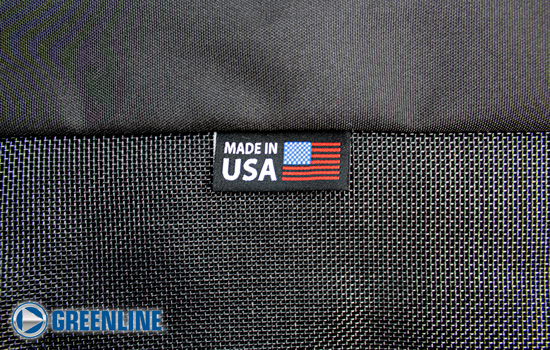 Greenline Sunshade is handmade in USA. (shown in black top / black sides combination)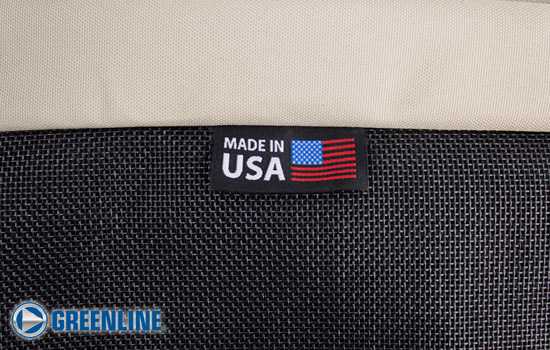 Greenline Sunshade is handmade in USA. (shown in Khaki top / black sides combination)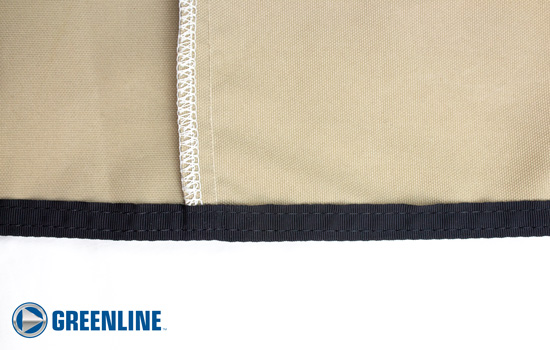 All inside seams are fully finished with stitching and binding, ensuring long lasting quality.
Product Videos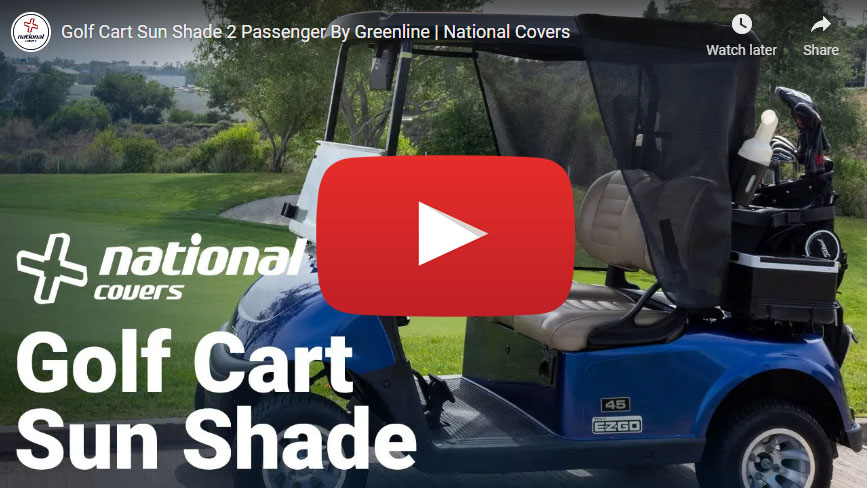 Customer Photos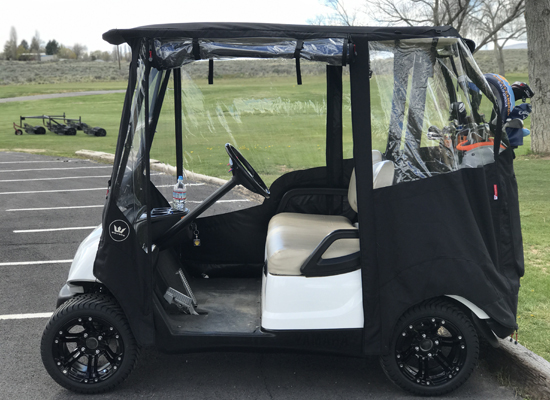 Product Photos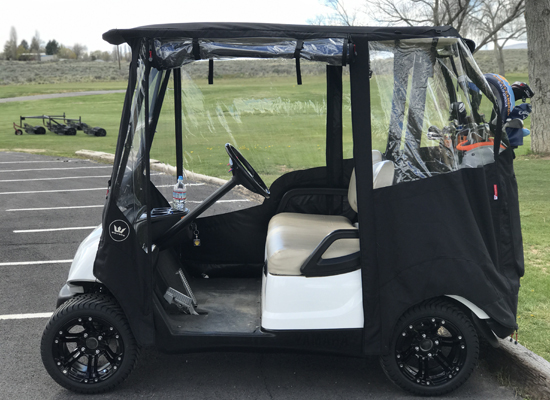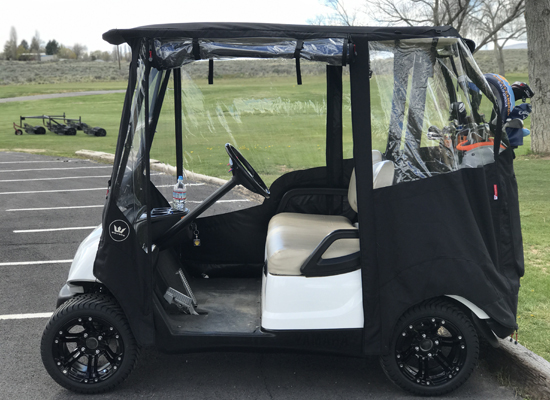 ---
Play it Cool with a Greenline Golf Cart Shade
Designed to make playing on sunny days more pleasurable, this high quality shade will keep you cool by blocking 80% of the heat transfer from direct sunlight. It will also block 70% of harmful UV rays, protecting you from excessive sun exposure. The best part is that the shade material is easy to see through and also allows the breeze to pass right through. So you have the best of both worlds, portable shade and a nice cool breeze. Installs quickly and easily. Place on rear of roof and use the strap to create tension around the front roof support poles. Two inch wide velcro is used to secure side panels to seat handles.
NOTE: This product is designed for use on golf courses and private roadways only. NOT for use on public roadways.
About Greenline Golf Cart Shades
The Greenline Golf Cart Shade by Eevelle offers an innovative sun shade solution for golfers to protect themselves from the heat of the sun and cancer causing UV rays while they are on the golf course. The all-new Greenline Golf Cart Shade is made from SunTex® 80; an extremely durable vinyl coated woven polyester mesh fabric that blocks 80% of heat and harmful UV rays. SunTex is fade resistant and will not mildew. SunTex fabric has the official seal of approval from the Melanoma International Foundation (MIF), which means it is a superior product for sun protection.
The Greenline Golf Cart Shade is made from a mesh fabric that offers excellent outward visibility and ventilation while blocking out heat and sun. Installation is easy! Our shade is outfitted with durable hardware that easily attaches to your golf cart. The Greenline Golf Cart Shade fits snugly and seamlessly over the top of the golf cart and hangs down on both sides to provide extra shade while maintaining easy access in and out of the golf cart.
The shade installs in less than a minute and can be used on rental carts or personal carts.
The qualities that make our golf shade unique are:
Specific patterns designed for Yamaha, ClubCar and EZGO
Easy installation in under a minute
Snug fit on the top of the cart for a clean look
Excellent 3 side sun coverage
Superior UV blocking mesh shade material
The top of the Golf Cart Shade is made with a durable Marinex marine grade fabric that comes in a black or tan color. The mesh sides are black. The Greenline Golf Cart Shade comes in several patterns designed to specifically fit Club Cars, Yamaha, and EZGO golf carts. Other golf cart shades on the market do not fit the Yamaha golf cart, but the Greenline Golf Cart Shade does.
OUT OF STOCK
We're Sorry. The item you have selected is currently Out of Stock. Please make an alternate selection. If you need assistance please call 800-616-0599.
The item you have selected is currently Made To Order. Order will be changed into Made To Order.
CUSTOM PRODUCT
PLEASE NOTE: The item you selected is considered a custom product. As such, it is not eligible for a refund once the order has been placed.
If you understand and agree to this condition, and would like to continue with your purchase, click the "Agree" button below.
For assistance, please call 800.616.0599