National Golf Cart Covers proudly offers Exactfit Sunbrella golf cart enclosures and covers. These high quality golf cart covers feature 100% genuine Sunbrella fabric over the entire cover. Sunbrella material is known for its outstanding performance, a premiere outdoor fabric that has proven durability and long-lasting, vibrant colorstay. Exactfit products are also available in Sunflair fabric, which is our own fabric with the qualities and characteristics of Sunbrella.
Call our USA based cover experts for assistance. 800-616-0599.

EXACTFIT SUNBRELLA GOLF CART COVERS & SUNBRELLA GOLF CART SIDE CURTAINS (ENCLOSURES)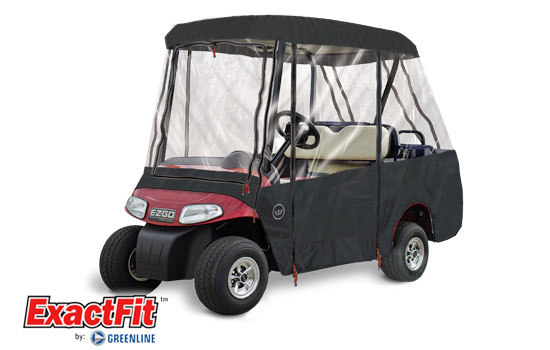 EXACTFIT SUNBRELLA & SUNFLAIR FABRIC SPECS:
9.25 oz. marine grade fabric 
100% solution-dyed fabric for long lasting, vibrant color
Strong and flexible material
Tough fabric treated for maximum water resistance and repellency
UV resistant fabric won't shrink or stretch
Mildew resistant
Industry's best 5 year manufacturer warranty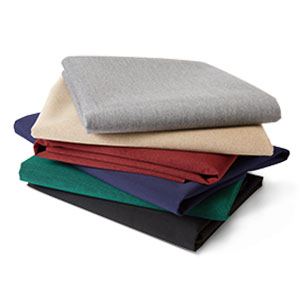 About Sunbrella Outdoor Rated Material
Sunbrella® is a premier name in durable long life outdoor fabrics. The name and product has an unsurpassed reputation worldwide. Sunbrella® products are sought after and popular because they look terrific and last outdoors for many years. Sunbrella® is solution dyed which means the color is placed into the fibers as it is extruded. Sun, wind and rain will never diminish the color intensity. Furthermore, Sunbrella® is made from acrylic, so unlike many other fibers it resists moisture/mildew and won't harden or crack over time. Sunbrella® is a soft protective cover that promotes breathability, which can be fabricated into a product that you can be proud to own for years to come. Sunbrella is a registered trademark of Glen Raven Mills.
Sunbrella Golf Cart Enclosure Colors
The lasting beauty of Sunbrella is available in a large selection of colors including: black, navy blue, marine blue, pacific blue, grey, forest green, tan, and red. Depending on the size and style of cover you choose, other color options may be available to choose. Click on the products to view the full color palette or call toll-free to speak with a customer service representatives at 800-616-0599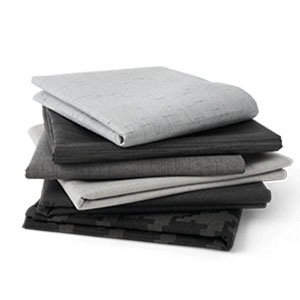 About Sunflair Outdoor Rated Material
With Sunflair, you are getting all of the incredible benefits of a performance fabric at a lower price. Sunflair is solution-dyed for superior stain-resistance, fade-resistance, and mildew-resistance. Sunflair is a waterproof and can be cleaned easily using soap and water or bleach.
Sunflair Golf Cart Enclosure Colors
Solution-dyed Sunflair fabric is available in many enduring vibrant colors at an affordable price. Choose from hues like red, tan, forest green, black, navy blue, pacific blue, and grey. Additional colors may be available depending on the size and style cover you choose. We are here to help you find the right fit and color for your cart! Call our helpful customer service department at 800-616-0599 for assistance.