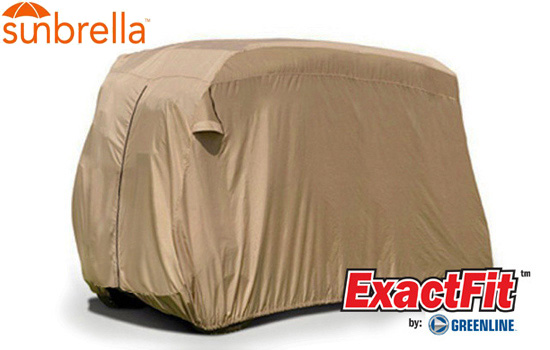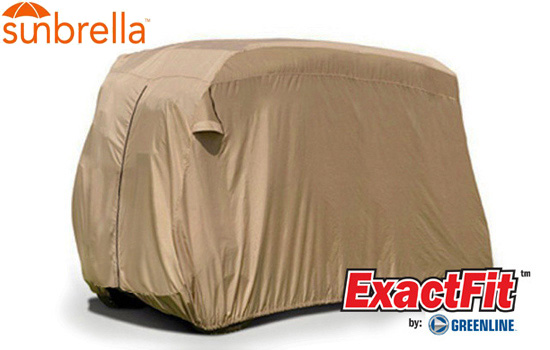 ExactFit Sunbrella fabric is one of the most trusted covers on the market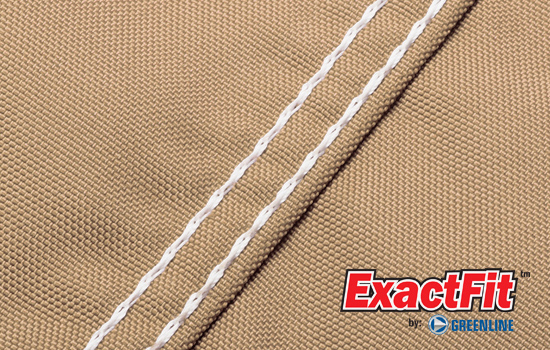 Strong and breathable double stitched lining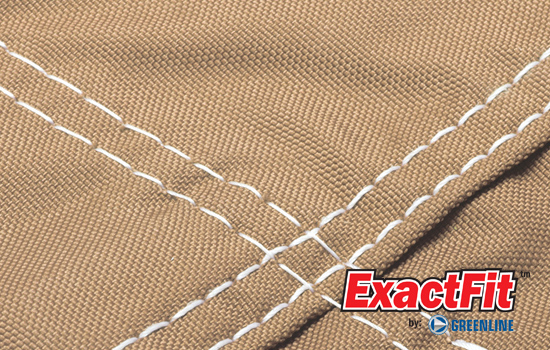 Heavy Duty 9 oz. 100% solution dyed acrylic and polyester yarn fabric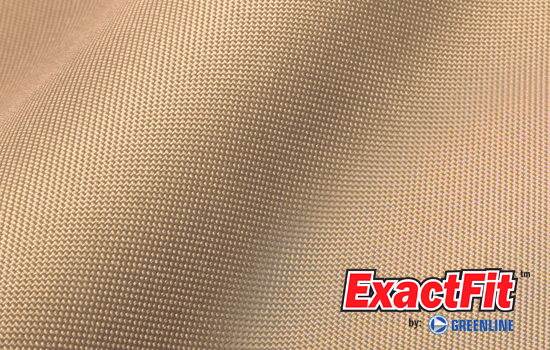 Sunbrella Heavy Duty material with an amazing 5 year warranty
Accommodates:



Extra tall sides
Zipper Access
All types of front ends
FEATURES
---

EXACTFIT SUNBRELLA GOLF CART COVERS - Featuring Genuine Sunbrella Material
ExactFit Golf Cart covers, featuring legendary Sunbrella brand fabrics, are for people that demand high performance from their covers. The Sunbrella brand is synonymous with quality and longevity that is backed by years of proven durability. ExactFit utilizes precision design and expert tailoring to produce a high-end Sunbrella golf cart cover that is beautiful and durable. Choose from a wide variety of rich colors to find the perfect cover for your cart!
Sunbrella is a breathable, mildew resistant fabric that will provide many years of protection for your cart. Stylish Sunbrella acrylic fabrics are available in a variety of colors. Every cover is mold/mildew resistant, stain resistant, fade resistant and easy to clean.
The fabric is marine grade 9 oz. material made of 100% Solution Dyed Acrylic / Polyester Yarns. The solution dyed process provides excellent fade and weather resistance.
ExactFit proudly features SUNBRELLA material for improved performance and longer life.
About Sunbrella:
Sunbrella(R) is a premier name in durable long life outdoor fabrics. The name and product has an unsurpassed reputation worldwide. Sunbrella(R) products are sought after and popular because they look terrific and last outdoors for many years. Sunbrella(R) is solution dyed which means the color is placed into the fibers as it is extruded. Sun, wind and rain will never diminish the color intensity. Furthermore, Sunbrella(R) is made from acrylic, so unlike many other fibers it resists moisture/mildew and won't harden or crack over time. Sunbrella(R) is a soft protective cover that promotes breathability, which can be fabricated into a product that you can be proud to own for years to come. Sunbrella is a registered trademark of Glen Raven Mills.
Sunbrella In House Employee Review
We tried the Sunbrella cover on several different Golf Carts and found the material feels nice and strong like the manufacturer claims. The fit is very good and it's easy to get the cover on. It's also convenient to have zippers around the cover that allow easy access in and out of the cart without ever having to take the cover off. We used to carry other covers that are not as strong but the Sunbrella really is a great cover for the price!
-Happy Shopping from The NGC Team
2 Passenger: Fits up to 90" L x 48" W x 62" H

4 Passenger: Fits up to 106" L x 48" W x 62" H

Weight of 2 Passenger Cover: 3 lbs

Weight of 4 Passenger Cover: 4 lbs
Strong and flexible, breathable Sunbrella fabric for fade resistance and long life

Rear zipper with anti-scratch sleeves to allow easy access that prevents scratching your finish

Built in vents to promote air circulation, reducing heat and moisture build up

Heavy duty reinforced corners with sewn in shock cord tension

Industry's Leading 5 Year Warranty
OUT OF STOCK
We're Sorry. The item you have selected is currently Out of Stock. Please make an alternate selection. If you need assistance please call 800-616-0599.
CUSTOM PRODUCT
PLEASE NOTE: The item you selected is considered a custom product. As such, it is not eligible for a refund once the order has been placed.
If you understand and agree to this condition, and would like to continue with your purchase, click the "Agree" button below.
For assistance, please call 800.616.0599