You may think that golf cart enclosures are simply an added accessory you can take or leave. The truth is, once you have a golf cart enclosure, you will wonder what took you so long to get it.
What is a Golf Cart Enclosure?
Golf cart enclosures are essentially a cover for you golf cart that has clear vinyl windows so you can drive it while it is installd. Golf cart enclosures are here to protect you and your cart from rain, sun wind and cold temperatures.
Owning a golf cart enclosure means that you can continue to play the beloved game of golf even when the weather is not ideal. The golf cart enclosure is an avid golfers dream, as it extends the amount of days you can be out on the golf course hitting the balls.
Golf carts come in various sizes including a 2-passenger, 4-passenger, 6-passenger. There are golf carts with long roofs and short roofs. . . there are even lifted golf carts. If you are considering purchasing an enclosure for your golf cart, we recommend measuring it to know exactly which enclosure to purchase. You will want an enclosure that is snug and secure so it won't bother you or fly off in wind. National Golf Cart Covers carries E-Z-GO golf cart enclosures, Yamaha golf cart enclosures, and Club Cart golf cart enclosures. 
Let's review three quality brand golf cart enclosures for comparison on benefits and features.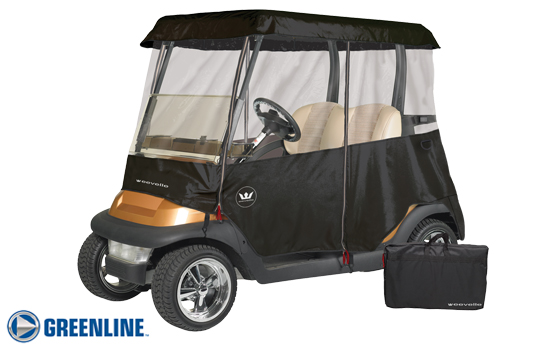 Loaded with Extra Features
There is a good reason National Golf Cart Covers' Greenline brand a best selling enclosure. It is loaded with special features that makes it extra durable and convenient to use. 
For example, the Greenline golf enclosure comes with an EZ Store Pocket for valuables like cell phones and wallets so you can keep them safe while you play. The Quick Caddy Storage System is a special pocket that fits a golf club or umbrella. 
These convenient extra features combined with the best waterproof, UV resistant materials makes for a long-lasting cover that you will enjoy on the golf course for years.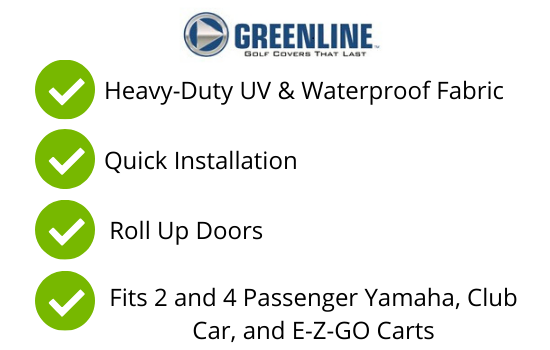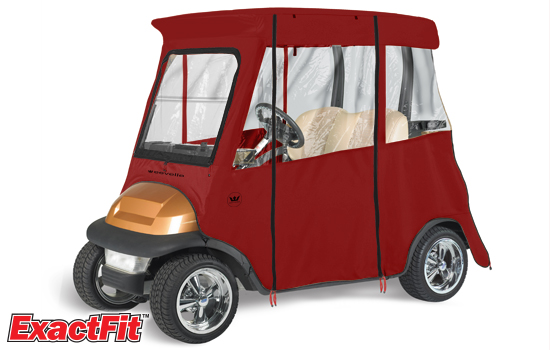 High Performance Fabric
ExactFit is the enclosure to choose for those who love the outdoor performance fabric, Sunbrella. The 9.25 oz. solution-dyed acrylic fabric keeps those bright reds vibrant year afer year. 
ExactFit does't have the EZ Store Pocket, but it does have convenient rear zipper access to your golf clubs. Along with the high-quality, most durable fabric and design functionality, the ExactFit enclosure comes in 15 vibrant colors with a storage bag included.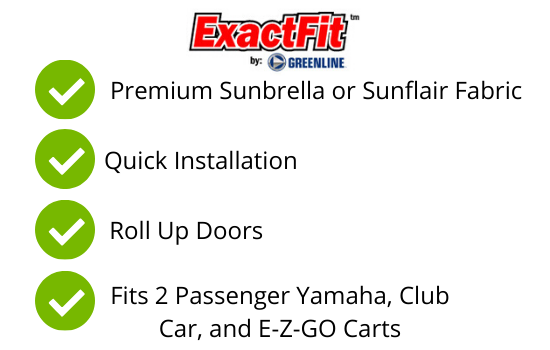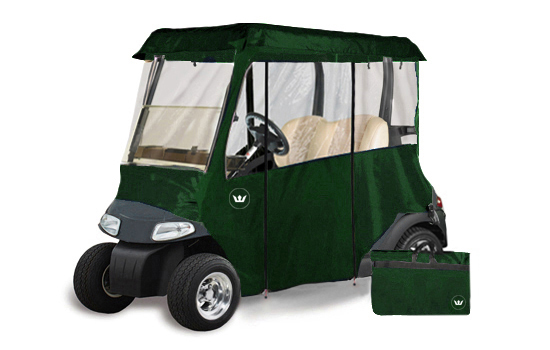 Value Packed
Priced under $100 with free shipping, you cannot beat the value of the National Golf Cart Cover. This affordable cover is also made from waterproof, UV resistant fabric and super clear vinyl windows.
Golfers will love the way this cover slides right over the top of the golf cart to create a custom-like, snug fit. Lock your enclosure down with sewn-in "J" hooks so it won't fly off in even the strongest winds.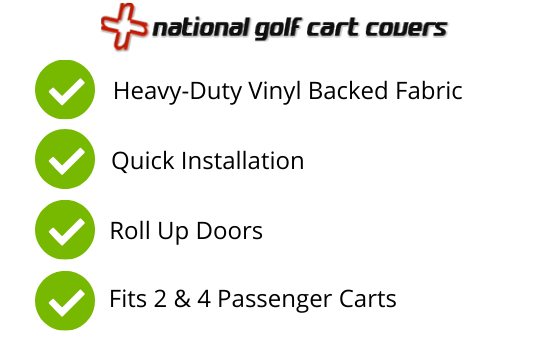 Each National Golf Cart Covers brand offers something special and unique in its line of cart enclosures. Whether you are looking for something with extra features, the best fabrics, or the best value, National Golf Cart Covers will make sure you order the enclosure best suited for you and your golf cart. Our enclosures fit Yamaha, Club Car, and E-Z-GO brand golf carts.