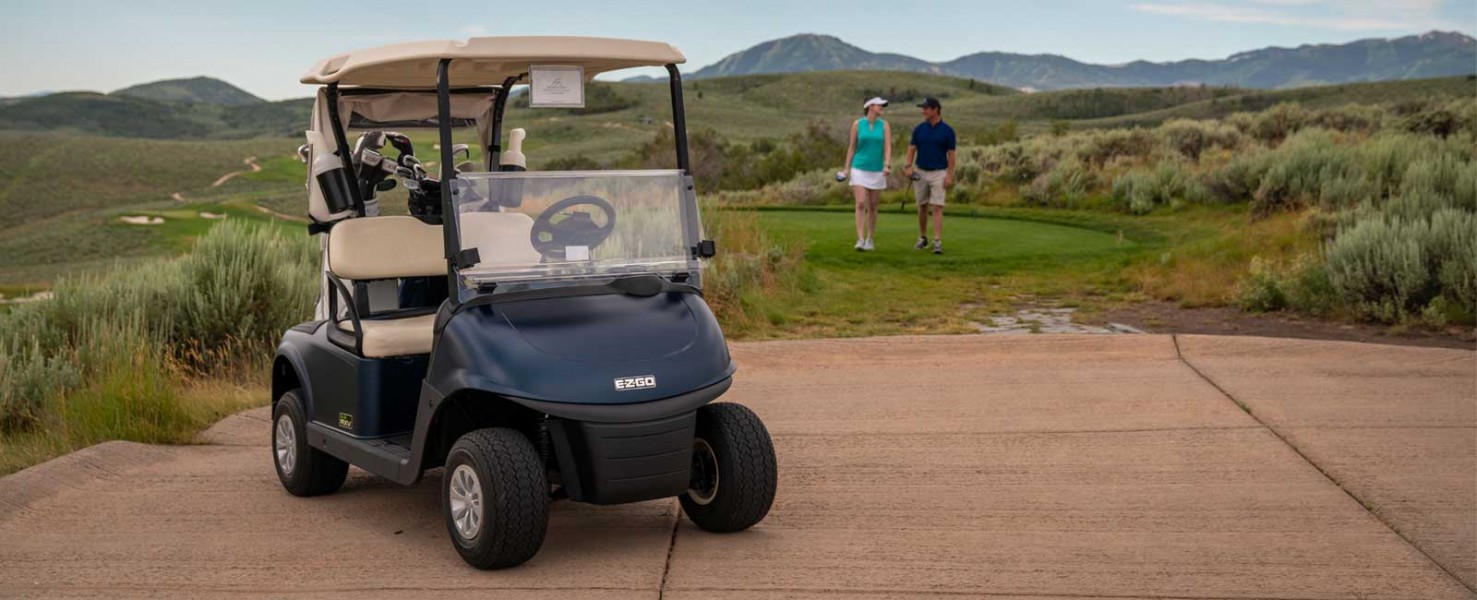 E-Z-GO Golf Carts are some of the best around, for their advanced technology, comfortable ride, and vehicle efficiencies. E-Z-GO began in 1954 in a one-room machine shop in Georgia, and has since grown into a global Fortune 500 company with more than 35,000 employees in 25 different countries.
Golfers love their E-Z-GO Golf Carts for good reason; they have extra features like IntelliBrake™ technology for drivetrain efficiency and TruCourse™ technology for perfect balance and performance. It only makes sense that you would want to take the best care by getting an E-Z-GO golf cart cover for it.
National Golf Cart Covers offers three distinct brand covers for E-Z-GO golf carts. When you want true protection for your golf cart, you need a cover that is made specifically to fit your vehicle. Our E-Z-GO golf cart covers are made from the most durable solution-dyed fabrics that are waterproof and UV resistant.
GREENLINE: A BEST-SELLING COVER 
Golfers love this cover for their E-Z-GO golf cart because it offers a superb fit at a great price. The Greenline E-Z-GO golf cover is made from Durapel treated woven polyester that reflects water and UV rays.
The elasticized hem gives each golf cart cover a snug fit and ensures it will not fly off in the next big storm. There is a zipper at the rear of the cover that provides easy access if you need to reach inside to grab something out of your golf cart.
The Greenline golf cart cover is an excellent choice to protect your E-Z-GO golf cart from being damaged when it is not being used.
GOLDLINE: HEAVY DUTY FABRIC 
Goldline E-Z-GO golf cart covers are known for having strong 7 oz. marine grade Tru-Weave fabric with heavy-duty stitching for extended durability through all seasons. If you want a cover that will protect your E-Z-GO golf cart in the harshest weather, the Goldline is a great choice.
You know that National Golf Cart Covers really stands behind the Goldline E-Z-GO cover because of the industry best five year warranty on this brand.
EXACTFIT: SUNBRELLA PERFORMANCE FABRIC
For the Rolls Royce of E-Z-GO golf cart covers, the ExactFit is the optimum choice. The ExactFit is made from Sunbrella, the best outdoor performance fabric out there. The ExactFit Sunbrella cover is heavy-weight at 9.25 ounces, and solution-dyed so any color you choose will stay vibrant for many years.
Two rear vents help keep air circulated, hot air from being trapped inside your cover so you don't have to worry about mold and mildew.
If the finest in fabric is what is most important to you in a cover, then this ExactFit Sunbrella cover is the right choice. 
You are the proud owner of an E-Z-GO golf cart - some of the best golf carts around - ready to give you a lift from hole to hole. You will want to take very good care of it. There is value to using a cover to properly winterize your golf cart, as well as using a cover year-round when you aren't riding it on the course. A high-quality golf cart cover can add years of life to your E-Z-GO golf cart, and ensure it is ready to roll at a moment's notice.